These photos were taken in San Francisco Presidio.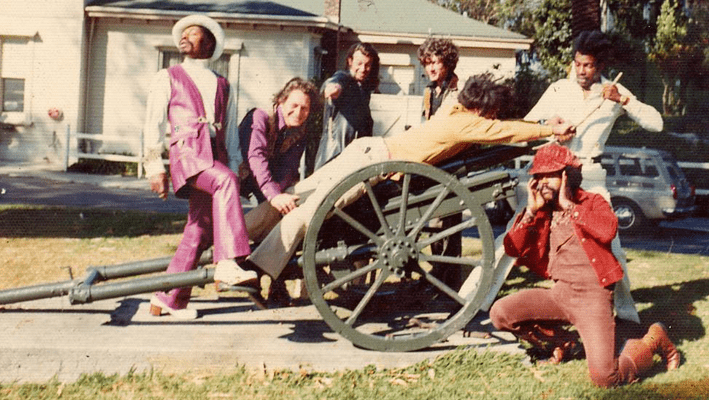 Members included from left to right:
James Richards (congas) Erwin goldfield (woodwinds) Dolph Lanchester (bass) Billy Moon (guitar) Tony Jones (lying across the canon – played drums) Eric Taylor (keyboards) Jerry Belton (percussionist)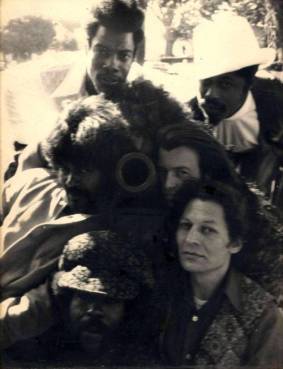 "Point Blank" A San Francisco band, played "danceable jazz," with a little funk and soul mixed in. The seven piece band was awarded a recording contract with Barry White Associates in L.A., but the band members wanted to go different ways, and eventually broke up.
They were hot through the 70s & 80s in the bay area, and performed with headliners such as "Ike & Tina Turner," "Al Wilson" (show & tell) the "Stories," (Brother Louie) "Arthur Prysock," "Sheila E." and "Pete Escovedo."
The group was formed by Billy Moon™ and Eric Taylor, also known as ET, and sometimes as Eric Stratos, and as a song writing team wrote most of their material. Songs were recorded and produced under the name "Stratos-Billoon Enterprises."
Click to play
"Roxanna"© (E.Stratos & B.Moon)
"Wanting"© (E.Stratos & B.Moon)
"The cable cars are coming"©
"B-A-R-T"© (E.Stratus & B.Moon)
"Without a warning"© Stratus/Billoon
"Girls, girls, girls"© (E.Stratos & B.Moon)