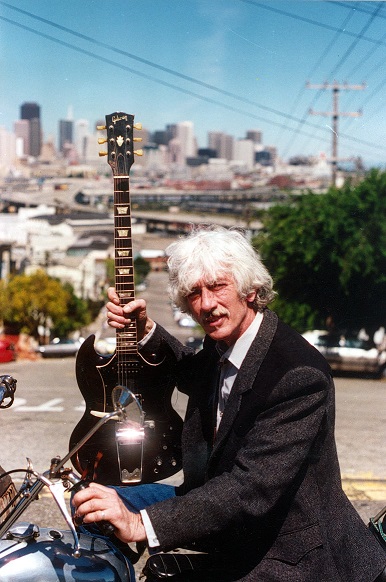 Click to play
"Everything we got is working" ©
Billy Moon™ was born in Jersey City, New Jersey. He started playing the accordion after moving down to the Jersey shore in the third grade of school.
During school he was doing casual gigs as an accordionist through the New York Federation of Musicians, local 802 around the New Jersey/New York area.
Before graduating High School he took up the guitar, and eventually keyboards.
Since that time, he has formed many groups, and backed up many recording artist. He has written and recorded ten CDs, of all original material.
One of his first groups was called "The Four Dimensions," and consisted of lead guitar, rhythm guitar, bass and drums, along with two go-go girls, who were part of the package. (A news clipping is featured on the "Photo Gallery Page.") That was his first trip on the road, and went across Canada. Their Canadian contract was canceled when the entire group was arrested in London Ontario, after the authorities found out some of the band members were under the age of twenty one. The Canadian Salvation Army came to their aid, and posted their bail, and paid for their expenses to return to the U.S.
He then joined a New York group called "The 8th Wonders," based out of "Trudy Heller's 8th Wonder Club" located in Greenwich village, NY. This gave him much experience backing up recording artist that were performing in the New York clubs at that time.
During that time, he was meeting and jamming with various musicians who were on their way to stardom, including Jimmy Hendrix, (who was going by the name "Jimmy James" at the time) Bob Dylan, and other groups that were performing in the coffee houses of Greenwich Village, and the clubs around town, like The Loving Spoonful, before they became discovered. Those groups were playing their original material for almost no money. At this point Billy started writing his own songs, but the band was too involved with rehearsing what was happening on the charts in order to keep working the club scene, they couldn't waste time learning an original. They were making good money.
From there he got together with "Bill Haley and the Comets," of (Rock around the clock) fame, and went on three tours with them across the country to Vancouver. That got him listed in the "Rock & Roll Hall of Fame." (More information about this on the "Photo Gallery" page.) The group was booked to go on a European tour, but Billy decided to stay in California. It seemed like the thing to do. Flowers in your hair, and all that kind of stuff. Things were happening out on the west coast, and he was tired of the road, and didn't want to return to New York.
That brought him to San Francisco, where he started piecing groups together. Some include "Whiskey Ring," "Point Blank," and "Koffee & Moon," among others.
His musical roots are in Rhythm & Blues, but touches on all forms of music, including Rock, Country, and Jazz. Billy has spent most of his professional life keeping up with the top 40 on the charts, to be able to keep working the night club scene, while all the time writing and recording his original material. This web site is an attempt to put his material out there to be heard.