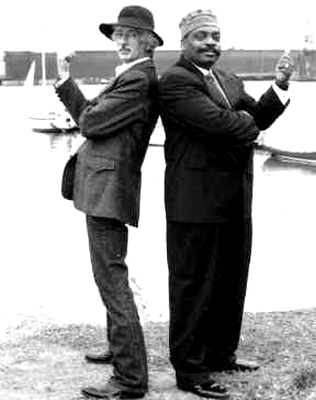 Standing on the dock of the bay, in San Francisco, headed for Lake Tahoe, NV.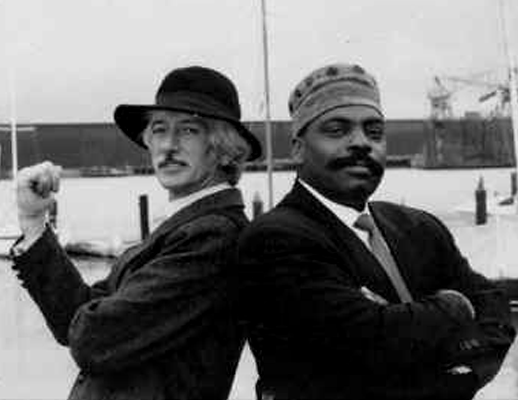 This is the last photo taken of "Koffee & Moon."
Floyd "Koffee" Gardner, Jr. died on April 6, 1996. He was 47 years old.
After doing solo work for a while, Billy got together with a fantastic front man, vocalists, extraordinaire. The two really clicked, and began performing at parties, and clubs in and around the San Francisco bay area. Billy was on his way back to Lake Tahoe, with "Koffee." The problem days with bands were over.
Some short film clips of "Koffee & Moon" live at a Christmas party
"Can't turn you loose"© written and recorded by Otis Redding
"The thrill is gone"© written and recorded by B.B. King
"Sweet home Chicago"© written and recorded by Robert Johnson
"Hard to be"© recorded by Stevie Ray Vaughan, and written by Stevie Ray Vaughan and Doyle Bramhall
"Down home blues"© written and recorded by ZZ Hill
"Hold it"© written and recorded by Bill Doggett/Butler
"Thirty Days"© written and recorded by Chuck Berry
"Dock of the bay"© written and recorded by Otis Redding
"Up on the roof"© originally recorded by "The Drifters," and was written by Gerry goffin and Carole King
"Koffee," was born in San Francisco, California in 1949, the eldest of 8 children. He attended Galileo High School, then San Francisco City College. He always considered himself, "the hardest working man in show business."
He joined the Army and did a tour in Vietnam where he received the National Defense Medal, the Republic of Vietnam Service Medal, the Bronze Star with Gold Cluster, the Combat Infantry Badge, the Vietnam Combat Ribbon, and the Good Combat Ribbon.
For the last 6 years, Koffee worked for the Department of Veterans Affairs, in the Engineering Department, as an Electrician. He soon became a member of the VA's Afro-American Cultural Committee.
He entertained with Gary Mora's "Oldies Road Show" as a D.J. with Mike Sanchez, and as a James Brown impersonator. He was a band member with the K.W.C. Complex, which included: Elvis Jones, Charles Watson and Bobby Cobb.
We will all miss "Koffee," and this web site is dedicated to his memory.